Tuesday, August 6th
9 a.m. – 1p.m.
at Good Shepherd Lutheran Church, La Crosse
The Peer Caregiver Support Program of Causeway is creating "Lap-tivity" quilts for staff at health, veteran and care facilities to give to caregivers of a loved one with Alzheimer's or other related dementia.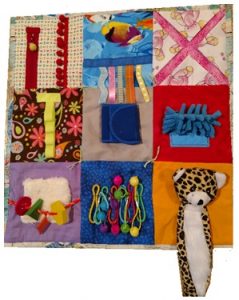 We are looking for volunteers to help create these lap sized quilts. Volunteers can bring their own machine or those who do not sew on a machine can cut fabric, sew on buttons, pick out designs and activities, tie quilt knots and more!  Refreshments will be served.
To participate, call Causeway at 608.775.9999
Adults with dementia have feelings that are often difficult to express due to cognitive impairments in language, memory, and executive function. Expressing frustration, boredom, anxiety, or pain may be expressed as resistance, agitation, wandering, frequent requests for help, and calling out. Up to 90% of persons with dementia experience one or more of these symptoms during the course of their illness and impacts the person's ability to cope with stress. Caregiver impatience or rushing, clinician assessments, unfamiliar surroundings, and an over-stimulating environment can provoke distress. Lap-tivity quilts will be given without charge to individuals in La Crosse County through The Peer Caregiver Support Program of Causeway Caregivers and the Aging and Disability Resource Center of La Crosse County.