You are welcome to attend as many Planning Sessions as needed to plan your Before the After, ask questions of knowledgeable individuals, open communication with family or friends and coordinate all your information in One Place.
Causeway Planning Sessions are held in-person.
2023 Planning Sessions Dates:
December 4th  REGISTER NOW
Topics of Before the After Planning Sessions:
Obituary Writing and Tip Sheet
Funeral, Memorial or Final Service Planning
Lasting Legacy and Letters of Love
Health History
Power of Attorney for Health Care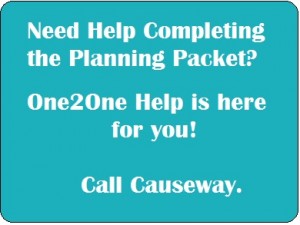 Organ Donation
ICE – In Case of Emergency Plan
Authorization for Final Disposition
Personal Designations
Preparing Your Will
Guardianship
Everything in One Place and Tip Sheet
Contact Sheet for Friends and Family

 Whether you are just starting to plan or need a few documents to complete your wishes, Before the After is a planning tool for you to use.  Planning Session materials are available for Wisconsin, Minnesota and Iowa residents.
 Sessions are open to the public with a suggested donation of $5.00 gratefully accepted to help offset expenses.